Service Area & Member Companies
Georgia Foreign-Trade Zone helps companies in our state thrive in a competitive global environment by reducing the cost of doing business and opening up supply chain efficiencies. We do this by providing companies access to the federal U.S. Foreign-Trade Zone (FTZ) program. Georgia Foreign-Trade Zone is the exclusive gateway for companies in more than 60 counties.
Georgia Foreign-Trade Zone will confidentially review your business with you, provide estimates on the likely savings to your company on an annual basis by participating in the program, assist you in the application process, and connect you with trade experts dedicated to keeping Georgia the number one state for business in America.
Today, some of Georgia's largest and most iconic employers are working with us to access the program. More than 13,000 Georgians work in factories, warehouses, and distribution centers that participate.
Your company can, too. Contact us to learn more or get started on a free, confidential assessment.
Service Area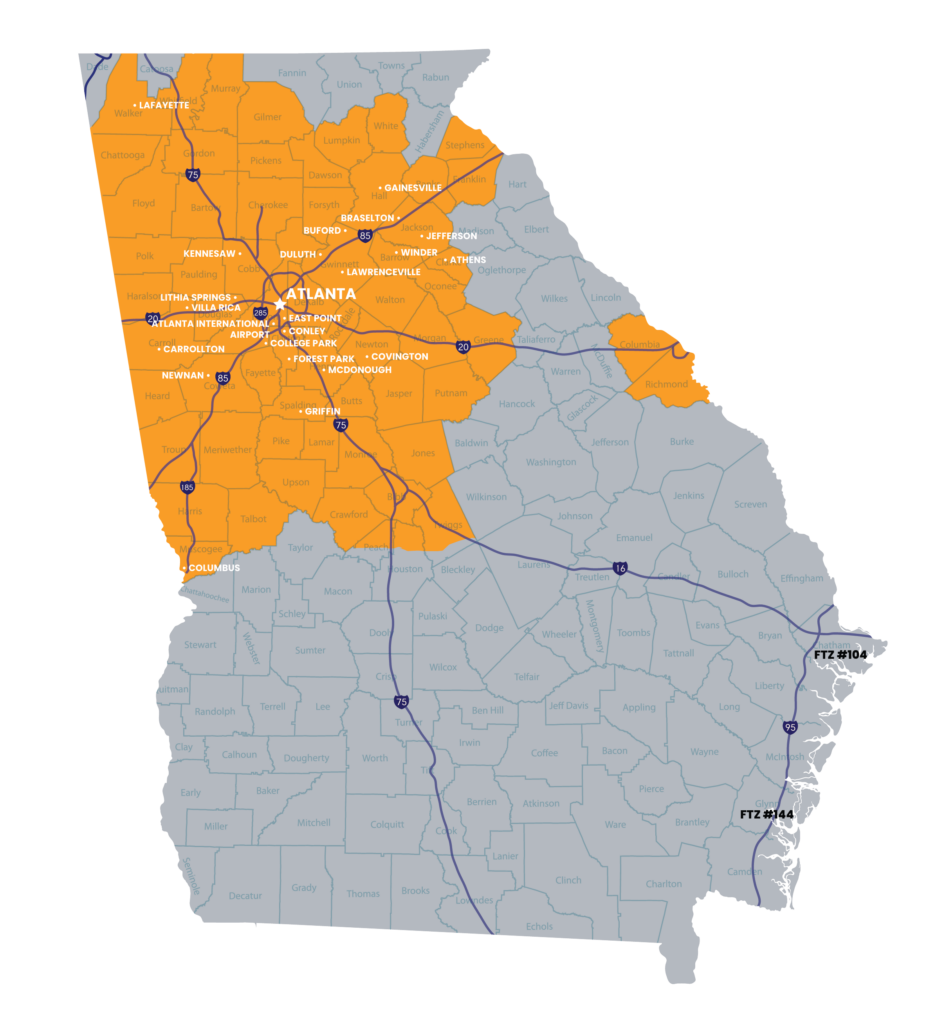 Georgia Foreign-Trade Zone works with companies throughout our federally approved FTZ Service Area surrounding the Atlanta Port of Entry. If your business is within this Service Area, site specific FTZ applications can be approved for warehousing/distribution operations by the FTZ Board in 30 days. The review and approval process for operations involving manufacturing or production usually takes 3 – 6 months.
If a company is located outside of the FTZ #26 Service Area, they may be able to apply through the FTZ #104 grantee in Savannah, the FTZ #144 grantee in Brunswick. Locations beyond all three FTZ service areas in Georgia may be eligible to apply for a Subzone application.
GFTZ can assist you in determining the best fit and aid in the process. Contact us to find out which solution is best for your business.
Companies We Work With
Third Party Warehousing & Global Logistics Facilities
Immediate access to benefits for the short or long term needs of your business.
If you need benefits of the FTZ program on an occasional or immediate basis, a warehouse with FTZ designation and operated by a third-party logistics provider might be the solution. Sometimes referred to as a "general-purpose" FTZ warehouse, this type of facility accommodates a variety of needs. Merchandise admitted to a general purpose FTZ warehouse can be:
Stored indefinitely
Assembled
Tested
Repackaged
Relabeled
Destroyed
Cleaned
Production activities require further approval from the FTZ Board
Warehouse operators typically handle all FTZ-related forms and reporting. The importer, or warehouse customer, therefore realizes immediate FTZ benefits without the obligations associated with applying for FTZ designation and operating a FTZ facility.
Contact us today to arrange a conversation with Georgia warehouse operators who can extend the program's benefits to your company.
"*" indicates required fields